My Mission
To lead and guide couples, families and individuals, during very special moments of their life's journey.  Whether it is the joy of a wedding ceremony, vow renewal or Child's Naming/Dedication Day.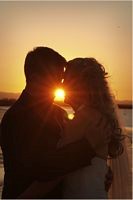 Also knowing and understanding the pain of losing a loved one, my son, first hand, I am well able to be comfort as you prepare for a loving and memorable farewell.
A Professional, with many years of ministerial and ceremonial experience, I am totally committed to ensuring that you are, not only 100% satisfied with the final ceremony, but that the experience, from the initial, cost & obligation free, introductory meeting, to the last minute of your special ceremony, is prepared and presented with sincerity, distinction, respect and honour to the client and the families represented.
Every ceremony is designed with full input from the clients.  Not everyone wants a "Religious" ceremony.  The style of ceremony is totally in your hands.  I will simply help you present the ceremony you want to ensure a memorable day.
I am acutely aware of the many different cultural beliefs and customs that our wonderful country embodies and am completely sensitive to specific religious and multicultural issues.